Generate, enrich and qualify leads in one place
Access data on companies, places and people directly in your spreadsheet and without hours of manual work.Wave goodbye to data import, scraping, add-ons and other cumbersome steps.
Win more business with less work
Discover companies, and places from public databases like LinkedIn, Google Maps, and Hunter based on industry, size and location.
Find people's email addresses with business tools like Clearbit, Stripe, Zero Bounce, Predict Leads.
Update your CRM directly from the spreadsheet with built-in Salesforce and Hubspot integrations.
Data enrichment made easy
Automate your entire lead generation flow - set up the process of building and enriching lead lists in minutes.
Retrieve companies domains and technologies they use by a company name.
Get data about your subscriptions and invoices from Stripe; or retrieve other companies' VAT numbers.
Bring your team on board
Move through data faster with real-time team collaboration.
Share your data-rich spreadsheets with just one click - you define the level of access.
Explore the spreadsheets built by our Community and easily duplicate the ones you like.
"With Rows we reduced 90% of time needed for lead research activities, while having more information for each account."
Daniel Moutinho
Sales Team Lead, Takeaway.com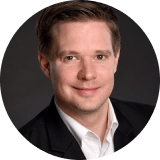 "You can generate lists of companies or business, enrich them with data, and have them automatically exported to your CRM in just a few minutes."
Johannes Füß
Sales Director, Loyalty Prime