Microsoft Build
May 24-26
See the latest Microsoft announcements for Windows, Azure, Office and more.
But don't expect many exciting announcements around Excel.
Instead, enter the future of spreadsheets already today with Rows - the spreadsheet with superpowers.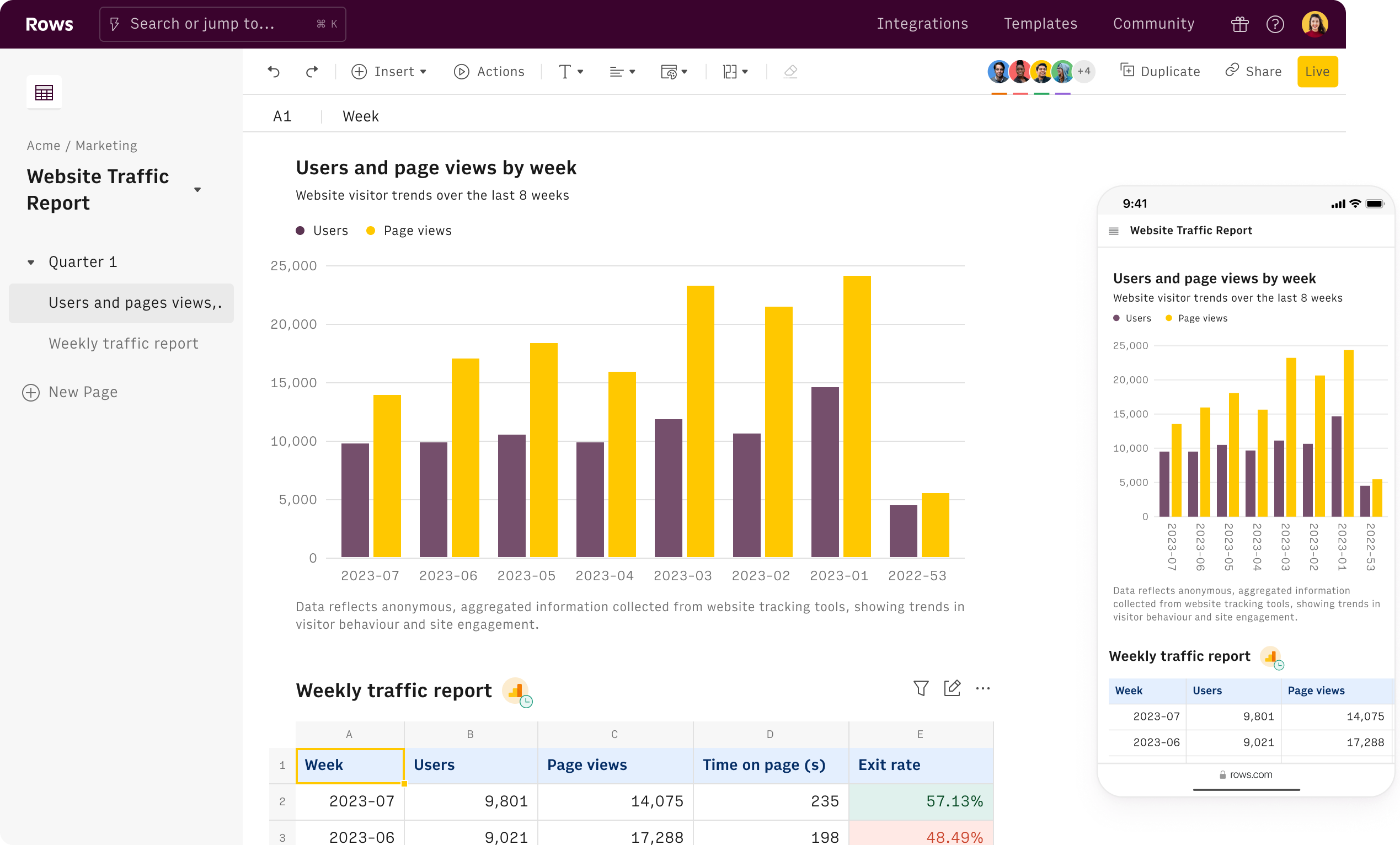 Rows is trusted by spreadsheet wizards everywhere
Spreadsheets
Rows has cells, the functions you're used to and everything else that makes spreadsheets great. Plus a whole bag of new tricks.
Integrations
Integrate business data from your tools and public databases. No more copy-pasting, exports and drowning in browser tabs.
Live Sharing
Share your spreadsheets as interactive tables, dashboards, or forms – they will look and work great on any device.
Community
Get inspired by spreadsheets and tools made by our community, or share your own creations with the world.
→

Find and enrich leads

→

Automate CRM entry

→

Report on sales pipeline

→

Create social media reports

→

Track multi-channel ads performance

→

Monitor website analytics

→

Geocode and clean up address data

→

Create forms to simplify processes

→

Integrate internal APIs

→

Manage product roadmap

→

Prototype and test internal APIs

→

Collect user feedback on features

→

Validate VAT numbers

→

Automate failed payment alerts

→

Monitor stock and cryptos prices

→

Manage hiring pipeline

→

Build vacation requests tool

→

Automate team birthday alerts
Upgrade your team's spreadsheets
Everyday tasks
Make your budgets, project plans, and financial models stand out. Build them together with your team and set them live in one click. Get creative beyond numbers with images, audio, buttons, checkboxes.
Learn more

→
Jamie Wheeler
Senior Account Executive
"With Rows, I've created and iterated on a variety of tools for the broader sales team that has saved us countless hours."
Reporting
Create and automate eye-catching reports with less work. Pull data directly from the tools you use every day and invite others to collaborate. Your team is always in the loop. Even on the go.
Learn more

→
Nathalie Belchior Massa
Marketing & BD Manager
"With Rows, I easily created a list with a real-time overview of all our social media data. I now have in one overview at the push of a button."
Data Enrichment
Bring all the data you need in one place. Enrich spreadsheets with companies, places, and people from public databases, or bring your own tools to the mix. No more scraping, add-ons or custom scripts.
Learn more

→
Daniel Moutinho
Sales Director
"Rows provides a wide range of productivity tools that save us valuable time and allows us to focus more time where it matters - customers."
Internal Tools
Connect any API to build custom dashboards, forms, automations and simplify your team's processes. Publish them instantly and invite your partners to collaborate. Get projects up and running fast, without scripts or code.
Learn more

→